Did you know that January 17th is the day people are most likely to drop their New Year's resolutions? It's even been dubbed Ditch New Year's Resolutions Day. As we head towards the end of January, you may be feeling like you're ready to give up your resolutions, or are already overwhelmed by what the year has piled on your plate, work-wise. Many teachers want to start fresh in the classroom when the New Year rolls around, but then get bogged down with the same onslaught of paperwork, testing, refocusing students after a long break, and everything else that seems to lend itself to thwarting all your best intentions for getting your classroom organized for the new year.
Fear not, all is not lost. Instead of trying to do a major overhaul to completely revamp your classroom, we have some ideas for small tweaks and changes that can help you feel like you're on a newly-organized path even when you don't have a lot of time or energy to completely redo your classroom.
Start by taking down any holiday décor or student work that's still lingering on walls or surfaces in the classroom. It's okay if you haven't had time to do another artistic activity with the students that will fill the blank walls. It's nice to have some open space to allow everyone's focus to reset and not feel distracted over over-stimulated. You might even start a conversation with your students about what they would like to do to decorate the walls. Add back décor and student work slowly and intentionally.
Now is a good time to rearrange the desks and other furniture to get an instant refresh. Again, you might ask your students for their input. Perhaps try a couple of their suggestions for a week or so, just to see how it works. This will also give the kids a sense of ownership in their classroom, knowing that they have a say in the setup.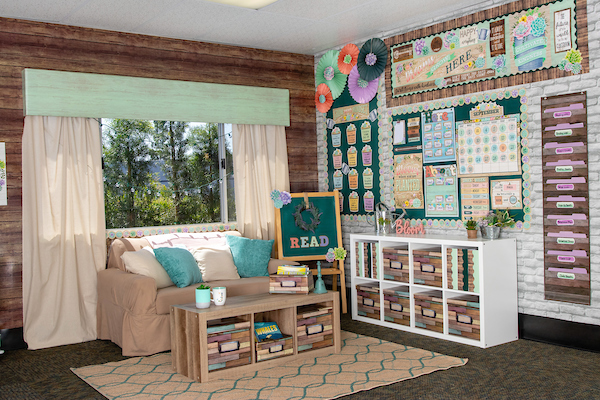 Simply changing the borders and/or backgrounds of bulletin boards or other displays can add a fresh new feel to a room. If you did this and nothing else, it would still feel like a completely different space. And that can get you in the right headspace for thinking more clearly about what you want to organize next.
Pick ONE area at a time that you'd like to reorganize, whether it's a paperwork management system, student routine, or organization of materials, and focus on cultivating ideas for that area. Start small. For example, if you want to better organize materials that students use, start by just walking around your classroom with a notepad to jot down what hot spots aren't working. Then pick one of them to organize. Ask yourself if the area just needs some easy-to-read labels, or maybe you need to get some different-sized plastic tubs to keep everything in that area corralled. Maybe it just needs to be moved somewhere else in the room to make materials easier to access. Next create a list of what you need to do to organize that area and get that spot set before moving on to another zone.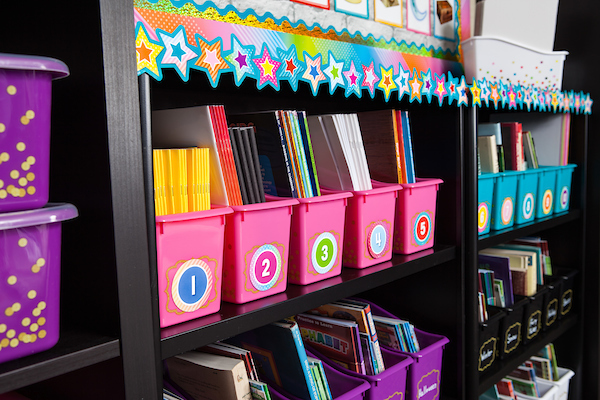 Ask colleagues for suggestions; a fresh pair of eyes can see things from a different perspective and another teacher might have an idea you wouldn't normally think of. They might even have some extra organizational supplies you can use!
Most importantly, be patient with yourself. You and your students are all readjusting to the routine, and it's okay if things take longer than you'd like, including organization. Just because January is drawing to a close, doesn't mean you have to automatically give up on being organized for the rest of the school year. If you tried a few things at the beginning and they're not working, revisit them and try something else.
There's still time to get the classroom design and system that you desire.