Kids will erupt with excitement!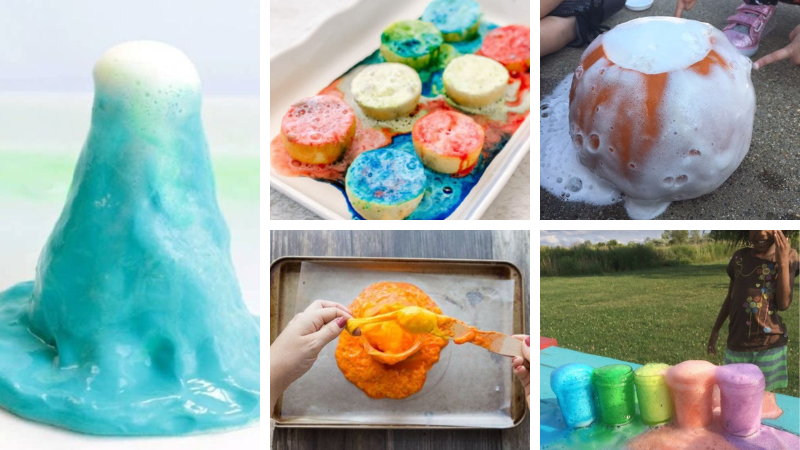 Is there any school science project more classic than the exploding volcano? Every generation of kids loves this explosive (and messy!) experiment, which is usually a take on acid-base reactions. Here are our favorite volcano science experiments and projects, along with some well-reviewed DIY kits that make the process easier.
1. Papier-mâché Volcano Experiment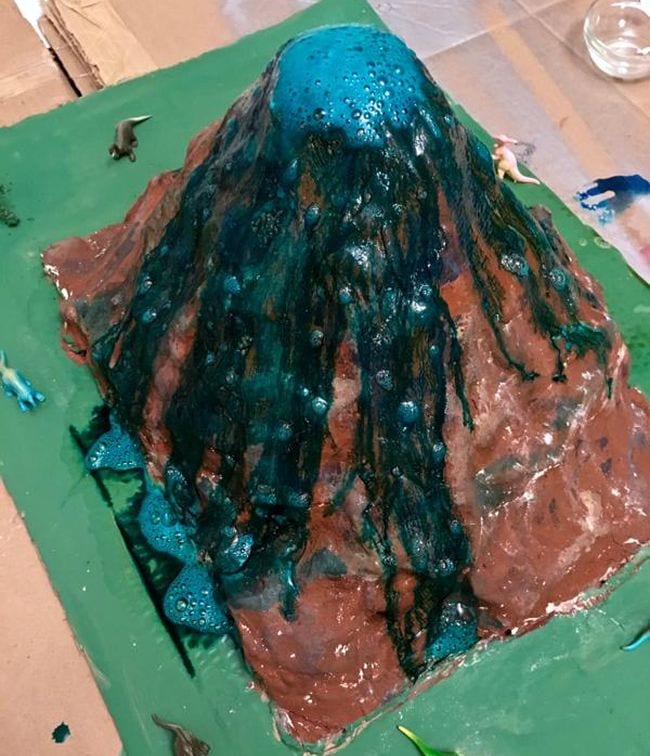 Here it is, the original papier-mâché volcano! The volcano is built around a jar inside that holds the vinegar and baking soda for the eruption itself. Add a little dish soap to make the "lava" foamier and more impressive.
Learn more:
Craft Cue
2. Salt Dough Volcano Experiment


Salt dough is a little easier to work with than papier-mâché, and you can make your volcano pretty realistic looking. Otherwise, the process is the same, and so is the fun!

Learn more: Teach Beside Me

3. Playdough Volcano Experiment


Want a quick version of the volcano experiment? Use playdough to build a volcano around a small beaker, then create the baking soda and vinegar reaction. Fast and fun!

Learn more: Life Over Cs

4. Snow Volcano Experiment


Volcano science experiments can be messy, there's no doubt about it. That's why this snow volcano is so brilliant! Take the mess outside and let nature help with cleanup.

Learn more: Science Sparks

5. Lemon Volcano Science Experiment


Lemon juice is full of acid, so this fruit is the perfect material for volcano science experiments. Just add a little dish soap (and food coloring for fun). Then top with baking soda and watch the fizzy eruption! Enjoy this one? Try it with apples too!

Learn more: Lemon Volcano/Beyond the Playroom

6. Pop Rocks Volcano


Watch a volcano video and you'll hear all sorts of popping and cracking sounds. You can recreate that effect in your DIY experiment by adding Pop Rocks candy to make a sound volcano!

Learn more: Growing a Jeweled Rose

8. Rainbow Volcano Experiment


Lava can take on different colors depending on the temperature and chemical composition. So make a rainbow of fizzing "lava" of your own using food coloring!

Learn more: Green Kids Crafts

9. Underwater Volcano Experiment


Not all volcanos erupt on land—some are found underwater. This experiment uses the different densities of hot and cold water to make the volcano "erupt."

Learn more: Mombrite

11. Look Inside a Volcano Experiment


This volcano science experiment digs deeper, laying out items like the magma chamber, crater, and central and secondary vents. The eruption is impressive, and now you can see how happens!

Learn more: 123Homeschool4Me

12. Pumpkin Volcano Experiment


When is a pumpkin not a pumpkin? When it's a volcano! This is an awesome project to take out onto the playground on a sunny fall day.

Learn more: Hillary's Teaching Adventures