Everything's better under the sea!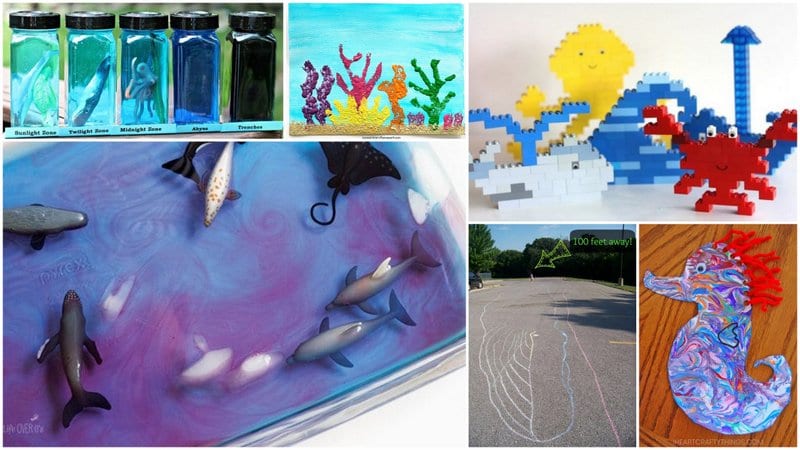 From "Baby Beluga" to Finding Nemo, kids love all things ocean! So you know they'll be eager to dive into this collection of ocean activities. They'll get to craft sea creatures, perform ocean experiments, and learn so much about our watery planet. Come on in … the water's fine!

1. Make an ocean in a bottle


Turn an old water bottle into a mini-aquarium. Sand, shells, and plastic sea creatures bring the ocean to you anytime.

Learn more: A Little Pinch of Perfect/Ocean in a Bottle

2. Dive into an ocean-themed sensory bin


Round up shells, toy sea animals, and maybe even a boat or two, then drop them into a bin of water. Every kid will enjoy splashing around while they learn!

Learn more: Fun Learning for Kids

3. Take a virtual aquarium field trip


Can't get to the aquarium? No problem! Take a virtual field trip instead with live webcams and video tours. See our list of virtual aquarium trips here.

4. Check out the Smithsonian's Ocean site


Just as you'd expect from the Smithsonian, this website is full of information, photos, and more ocean activities. You'll even find free lesson plans for teachers—score!

Learn more: Smithsonian Ocean

5. Assemble ocean zone bottles


Learn the zones of the ocean with these clever bottles. Simply use food coloring to dye the water deeper shades of blue to represent the amount of sunlight that reaches each zone, then add a representative sea animal toy.

Learn more: Edventures With Kids

6. Turn paint strips into ocean layers


Grab some blue paint sample strips and label them to represent the ocean layers. Then add stickers or drawings of corresponding animals to each layer.

Learn more: A Little Pinch of Perfect/Ocean Zones Crafts

7. Upcycle an ocean zones craft


Here's one more way to learn about the layers of the ocean. Use crepe paper to upcycle a plastic container, then get free printables at the link to add to your creation.

Learn more: Living Porpoisefully

8. Watch an ocean documentary


Every streaming service is loaded with nature documentaries. Disney+ has an especially robust collection that's perfect for kids. On Amazon, try Wildest Pacific or Ocean Mysteries. Netflix's new Our Planet series has episodes on coastal seas and high seas.

9. Peruse the Marine Life Encyclopedia


Looking for online ocean activities? Try the Marine Life Encyclopedia. Kids will get in-depth information about all their favorite sea creatures, from sharks to otters.

Learn more: Marine Life Encyclopedia

10. Learn how ocean currents work


This cool demo uses hot and cold water, mixed with a little food coloring, to demonstrate how ocean currents form. (The plastic sea animals are just for fun!)

Learn more: Life Over Cs

11. See ocean waves in action


A layer of oil floating on the water helps make wave action more obvious. You can do ocean activities like this one in person or as an online demo.

Learn more: Little Bins for Little Hands/Ocean Waves

12. Explore saltwater density


Kids may be surprised to learn that it's actually easier to float in saltwater than fresh. This experiment proves it, though!

Learn more: Science Kiddo

13. Dive and Discover


Here's another website full of online ocean activities. It simulates the thrill of joining actual underwater explorations, from coral reefs to deep-sea trenches.

Learn more: Dive and Dicover

14. Put together an ocean animals notebook


Want to explore a wide variety of sea animals? Then grab this free printable 60-page notebook. Each page includes space for kids to fill in the information and add their own illustrations.

Learn more: Homeschool Giveaways

15. Do an ocean animal research project


Here's another way to explore sea creatures. Each student chooses their own favorite, then dives deep to learn all about it. Have kids give a presentation, design a slideshow, or even make their own documentary!

Learn more: 2 Literacy Teachers

16. Transform eggs into sea creatures


How adorable are these? They were made using wooden eggs, but plastic ones would work well too.

Learn more: Craft Play Learn

17. Build LEGO sea creatures


Pull out the tub of LEGO bricks and set kids free to create! Show them these pics for inspiration, then see what they can come up with on their own.

Learn more: Little Bins for Little Hands/LEGO Sea Creatures

18. Use a fork to paint a pufferfish


You'll be surprised at how easy this impressive painting is to create. Pick up a bag of disposable forks and get ready for undersea fun!

Learn more: Crafty Morning

19. Paint a coral reef with sponges


Here's another surprisingly easy ocean craft for kids. Cut disposable sponges into coral shapes, then stamp an underwater scene.

Learn more: Primary Theme Park

20. Sculpt sea stars from salt dough


Starfish, more properly known as "sea stars," come in a wide variety of sizes and designs. Have kids sculpt their own from salt dough or Play-Doh.

Learn more: Crafting Chicks

21. Craft a whale from a paper plate


No whale craft is complete without a spout of water from the blow-hole! All you need is a pack of paper plates to get started.

Learn more: Krokotak

22. Draw a life-size whale


Did you know that blue whales are the largest creature EVER to have lived on Earth? They're even bigger than dinosaurs! Head to the playground with some sidewalk chalk and a tape measure to see if you can draw a life-size blue whale model.

Learn more: Edventures With Kids

23. Create a colorful seahorse


The secret to this cool marbleized pattern? Shaving cream! This is one technique that never fails to impress.

Learn more: I Heart Crafty Things

24. Hang suncatcher jellyfish


Recreate the translucent bell of a jellyfish with tissue paper, then hang ribbon tentacles for a pretty ocean craft you'll love to display.

Learn more: I Heart Arts and Crafts