These will seriously cut your stress.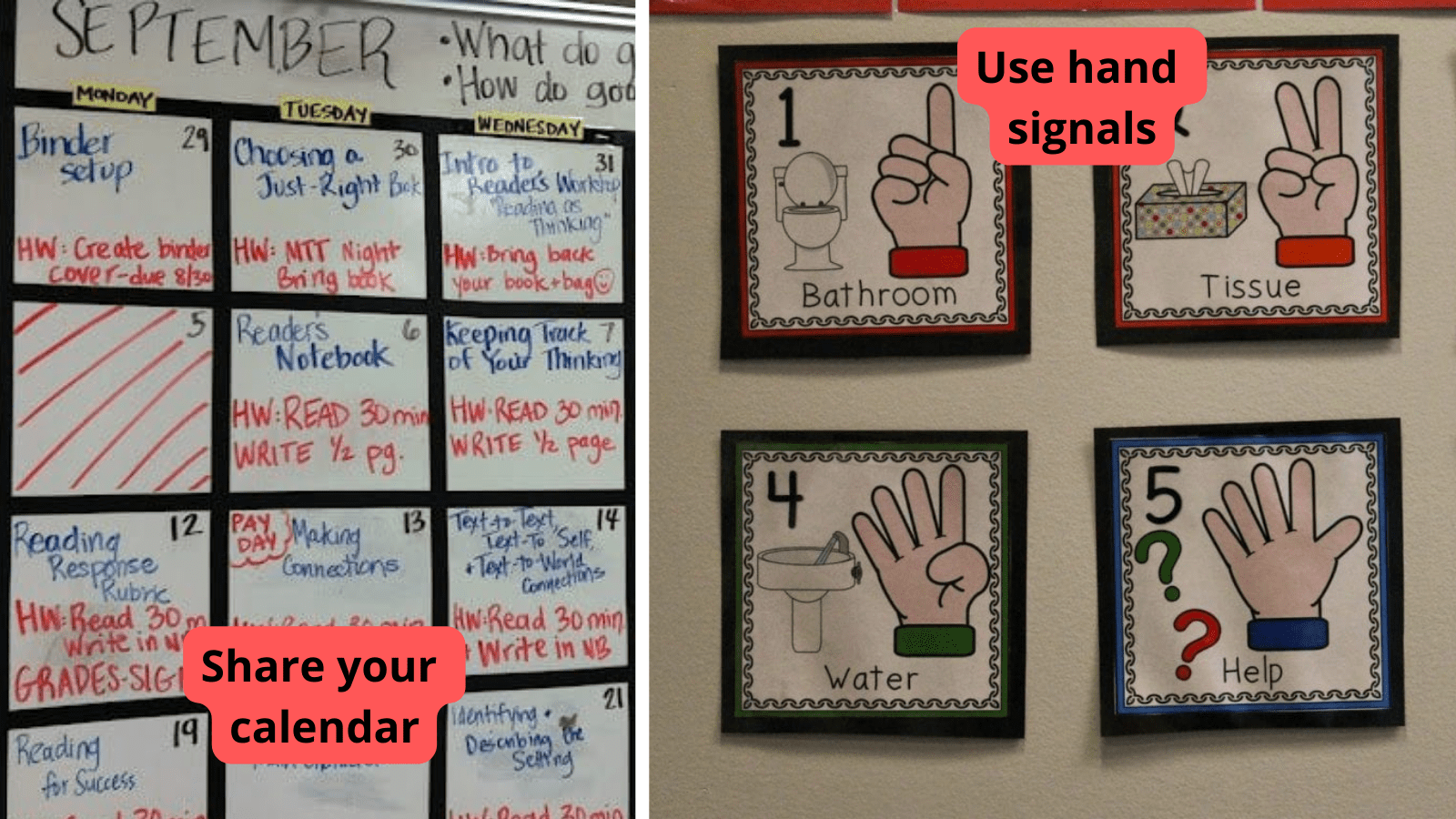 If classroom management is top of mind for you as we begin another school year, you're not alone. So many educators struggle with classroom management and are looking for support.
1. Use Hand Signals


Hand signals work for all grade levels and can help minimize distractions from your active teaching and discussion. The key to making them work? "Print out a chart as a reminder," says teacher Mary M. "Practice them the first few days of school, then if a kid tries to ask you something, you can point to the chart." See our list of favorite hand signals here.

2. Set a routine for lining up.


Here are 15 ideas for lining-up strategies
. All teacher tested, so you know they work.
3. Set a timer for transitions.

Shop Time Trackers

Transitions can be challenging for so many of our kids. Giving students a clear idea of when you all will move on to the next activity can really help. Many of our HELPLINE teachers said that using a timer was their number-one classroom-management tip. The stoplight timer pictured above adds a nice visual cue. Here's a tip: The timer on your phone works great, too, especially if your students get to choose the alert sound!
4. Provide "bell ringers."


Source: @chapter_6_

Bell ringers, or bell work, help to set the tone for learning the minute students walk into your room. If the expectation is that students will immediately begin their bell work, you will minimize the disruptions that naturally occur when students are streaming into your room. Bell work can sometimes have a negative connotation, but it doesn't have to be worksheets or writing response. Check out these 10 no-prep bell-ringers for middle school ELA.

5. Share your calendar.


"I post a calendar on the inside of my door with that month's important events," says Tova R. "When students need to know when something is, they go to the calendar." Paper and pen not your jam? Google Calendar makes it easy to share a digital version, too. "I train my students to use Google Calendar and model how I use it, too," says Tamara R. "Once a month we have a housekeeping session where we annotate and revise important dates and events."
6. Be clear about technology rules.
Classroom tech can be a huge distraction if kids don't know the rules.

7. Have a system for pencils.


Prevent time lost in searching for and sharpening pencils by establishing a system and sticking to it. "I always have two pencils per student. One for their desk and one in the rack for emergencies," says Trisha M. "Each student's pencils have their own duct tape and number so that they can identify it. It has cut down on interruptions, arguments, and kleptomania!"
9. Date stamp students' work.


"I stamp all work as students hand it in to prove who has late work," says Missie B. "A couple of years ago, I had students sneak assignments into the tray late before I had a chance to pull them out or say they turned things in when they didn't. This took care of both of those problems."
10. Set up turn-in trays.


Turn-in trays allow for more independence from your students and easy paper sorting for you. Some teachers use different trays for different subjects/classes, while others prefer one slot/tray for each student. 
Shop document and tray sorters.
11. Ask students to highlight their names before turning in work.


This is one of our favorite classroom procedures because it's easy and cuts back on a big problem. "The no-name papers will disappear," says Kristin B.W.
12. Greet every student at the door.
"They behave better when they feel cared about," says Debra M. Don't we all?

---

About the Author
Hannah Hudson is the editorial director of WeAreTeachers.